History of the
United Methodist Church of Clinton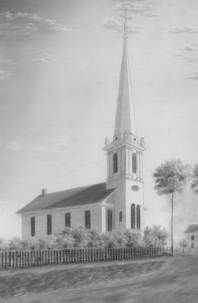 Although there were Wesleyan classes in the Clinton area, this church was born with the appointment of Nathaniel Kellogg in June, 1830. The present building, our second meeting place, was dedicated in July, 1855. The parsonage nearer Main Street was finished in 1863.
The Sunday School, formed in 1831, still serves all ages in their quest for a closer relationship to God. The Kathy Fell Building, named in memory of the pastor's wife, has housed it since 1960. Around the same time, with the generosity of Henry and Esther Wing, the house at 18 Commerce was purchased so the church could have a parking lot and playgrounds.
Music is an important part of worship here and we are blessed with a 1907 Hall Organ. Improvements to maintain and increase its lovely tones were made in the 1980's to honor Betty Walker, organist for 42 years.
Our buildings are shared with the Country Nursery School, Boy Scout Troop and Cub Scout Pack 55, the Ecumenical Soup Kitchen, W.I.C.Nutrition Program, T.O.P.S., Alcoholics Anonymous and Kidz Konnection.